DaVinci's Gold Casino: 5 Daily Spins For 365 Days
DaVinci's Gold casino has prepared a particularly attractive bonus offer for its active members. And it is quite an exclusive one at that too. For here, you will come to witness the full display of what this online casino is truly capable of. Not only will you play a few of its most excellent games, but also get to experience all that this amazing playground has to offer its viewers. That includes, of course, a great deal of surprise content, the kind of which you will get to appreciate to the fullest. Head on out there and complete some of the stages of this online experience, so that you may get all these excellent benefits, including some amazing slots offers.
And so much more, for the online casino DaVinci's Gold has already brought a great deal of amazing gifts. Starting off with a welcome bonus, then proceeding to its regular promotions; there is enough to keep everybody entertained for many long hours. More importantly however, if you are a depositor; then you will get to appreciate these outstanding bonus. Simply make a single bitcoin deposit worth the amount provided below, and you will receive 5 Daily Spins for the entire year. That's correct; 5 Bonus Spins each day for the next 365 days. It's quite the bonus, so if you feel like joining the online casino, then you may want to do that now. Get to play the best online slots, as each month a different slot will be featured. See the full terms and conditions for more details on that.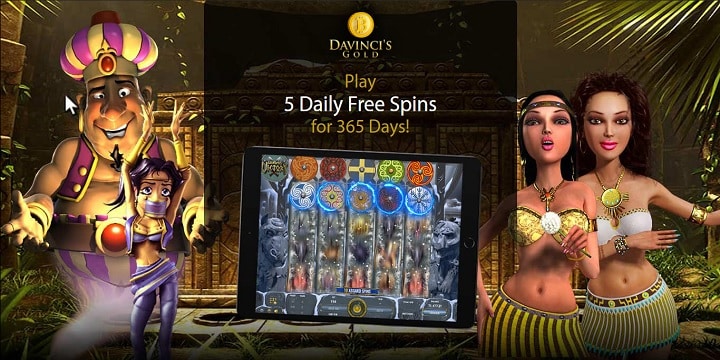 Promotion: 5 Daily Spins / 365 Days
Qualifications: one bitcoin deposit
Bonus Gift: 5 Daily Free Spins
Maximum Cash-out: $50
Minimum Deposit: €/£/AU$/NZ$/$25(R250)
Duration: entire year (365 days)