Vegas Crest Casino – April Fools' Bonus
The Vegas Crest casino is always looking for new ways to keep its players entertained, and with that – come the many fantastic games and superb bonuses. It seems that this next month is going to start on a particularly exciting note; as everyone who makes a deposit on April 1st, will be greeted with a special bonus up to 400%. All this sounds like a really exciting time to be part of the VegasCrest program, so if you still haven't signed up with this gaming platform – then now is your chance to do just that. However, some terms and conditions can apply, including wagering requirements; so make sure to check them out before fully committing to the activities at hand.
Depending on how much one is willing to deposit, a specific April Fools' Bonus is going to be credited. In other words; there is plenty of fun to be had at casino Vegas Crest today, so don't waste any more time and hurry to the lobby to claim this amazing offer. There is a 150%, 200%, 350%, and 400% bonus – for members of the VIP club, while the rest can still receive the first three bonuses on their successful deposit for that day. Furthermore, new casino users are still going to gain the advertised welcome package when they make a first and second deposits, which includes a match bonus with free spins. Find out even more about exclusive offers and other special promotions from the Vegas Crest network, when you become part of this casino and opt in for its newsletter.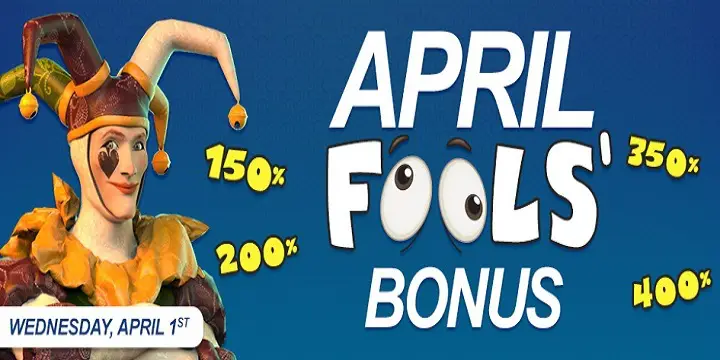 150% April Fools' Bonus: $50-$150 Deposit
200% April Fools' Bonus: $150.01-$300 Deposit
350% April Fools' Bonus: $300.01+ Deposit
400% April Fools' Bonus: VIP players only