Black Lotus Casino: 20 Years of Winnings
Black Lotus casino is celebrating 20 Years of Winnings and everybody is invited to join the party. If you have been part of the online casino Black Lotus, then you probably know what to expect at this point. It's going to be a super fun ride, no doubt about it; one that's full of excellent benefits and lots of surprises. This online casino is truly one of a kind, and even has its own, unique theme to top things off. But that is just an introduction to what this gambling site is truly capable of. Once you decide to become a member, then you will definitely get plenty of amazing gifts from it. Just make sure that you are fully aware of the terms and conditions first.
If you register, then you can definitely look forward to some great bonuses. And of course, there is the 20 Years of Winnings campaign, which ultimately leads to an even greater amount of special offers from this casino. Make a deposit of at least $50 and claim one of the available offers. Because this is a special time for the Black Lotus website, there are plenty of exclusive promotions. Just pick the ones you would like to receive, and you will undoubtedly have a fun time altogether. Redeem the codes that come with each bonus, and you will get plenty of free spins and extra funds to play with. Plus, there is a main prize as well: a Ford Mustang worth $36,000.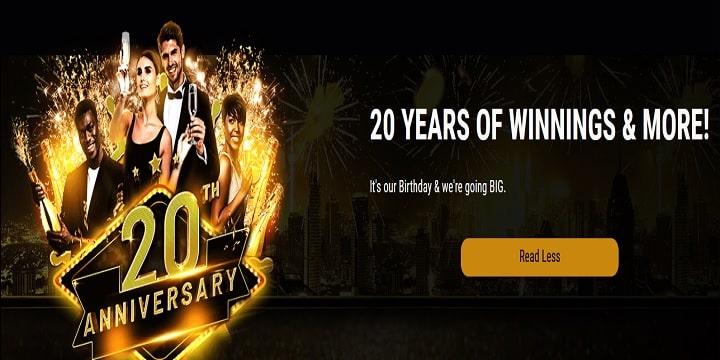 350% up to $1,000 Bonus (Code: 20YEARS350)
45 Free Spins – Millionaire's Life (Code: 20YEARS45)
50 Free Spins – The Cash King (Code: 20YEARS50)
250% up to $500 Bonus (Code: 20YEARS250)
20 Free Spins – The Spice of Life (Code: 20YEARS20)