Hallmark Casino – Crypto 2 Ride
Hallmark Casino is ready to provide all that its players need when it comes to online entertainment. Especially the kind of which you are going to enjoy during your stay at the online casino Hallmark. That includes the Crypto 2 Ride offers; a set of exclusive bonuses you can grab right now. That is not all however; for the promotion itself comes with many more surprises still. As the main prize is going to be an e-class Mercedes Benz. Everybody who makes a crypto deposit will be automatically entering this campaign. Plus you can always return to the Hallmark Casino for many more special promos and bonuses; much like the Crypto 2 Ride.
So that means you shall receive the benefits as well as a ticket into the raffle. Take part in the Crypto 2 Ride draw and get yourselves a brand new car. If you feel like playing some more online games, then the Hallmark casino should be your current destination. Make sure to head over there and make a crypto deposit. For that is the only way you can enter the lottery. But of course also to receive one of the Crypto 2 Ride bonuses. Or maybe even all of them if you like. So check out this awesome new promotion and sign up for more news coming from the online casino. Play games, have fun, and get to win some pretty awesome wares at that too.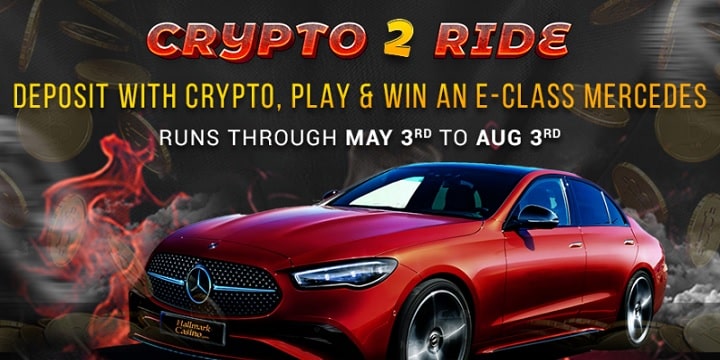 OFFER | CODES | MINIMUM DEPOSIT
350% BONUS + 30 FREE SPINS | EBENZ350/EBENZ30 | $20
425% BONUS + 50 FREE SPINS | EBENZ425/EBENZ50 | $50
500% BONUS + 100 FREE SPINS | EBENZ500/EBENZ100 | $75
START: 03/O5/2023 – END: 03/08/2023