Kats Casino: Crypto 2 Win + Mercedes Benz
Kats Casino has officially launched its fabulous new gaming promotion; one that comes with many, many rewards. It's called Crypto 2 Win, as for each bitcoin deposit – you shall receive a bonus package. Which of course consists of a match offer as well as free spins. So in total you shall receive an awesome bonus with freebies. As well as automatically enter the race competition to win a E-Class Mercedes Benz. Deposit with crypto, play games and wager the highest amount in order to win yourselves a shiny new car.
All that and so much more, is going to await you during the Crypto 2 Win campaign. The promotion itself is going to run between the 3rd of May and 3rd of August this year. So in total; there are $12750 in bonus money, plus 180 free spins, as well as a $120 free chip for those who are signing up with Casino Kats for the very first time. Feel free to join now and explore the online casino Kats during its Crypto 2 Win promotion. Plus get all of the aforementioned goodies, or even win a Mercedes Benz car. This year's summer looks like it's going to be scorching hot. All thanks to the Crypto 2 Win campaign and the Kats Casino that hosts it. In addition, one may still find a whole lot of other exciting gaming events. Because there is always something fun happening out there.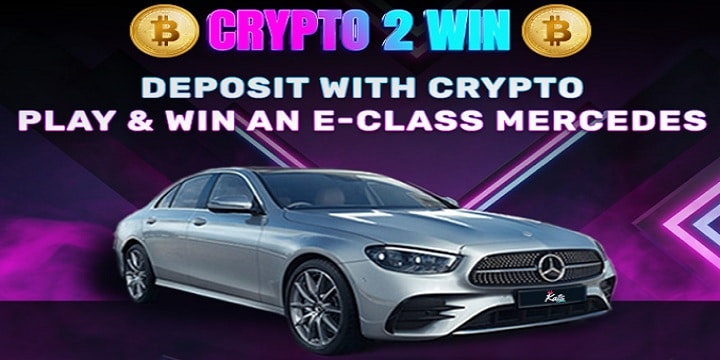 Offer 1: 350% Bonus + 30 Free Spins
Promo Code: MERCEDES350
Minimum Deposit $20
Offer 2: 425% Bonus + 50 Free Spins
Promo Code: MERCEDES425
Minimum Deposit: $50
Offer 3: 500% Bonus + 100 Free Spins
Promo Code: MERCEDES500
Minimum Deposit: $75